Conservation framing is considered the highest standard of framing and it is an essential step to protect your valuable or cherished art piece for years or even decades to come. In essence, the role of Conservation framing is to stop the damage caused by acid and light and to preserve and protect your art piece, your memories, for years and years to come. The art piece you want to preserve does not have to have a high monetary value, in fact it doesn't need to have any monetary value. If that first picture your son or daughter painted for you has meaning and you want to preserve it, it has just become priceless. The same goes for family heirlooms, your family's cherished pieces, something you picked up on a trip or anything else you can imagine. The only requirement is that it has meaning to you.
Conservation framing requires framing techniques and methods that ensures the mounting and framing of your artwork can be totally reversed if required and taken out from its frame without any damage whatsoever to your artwork. Most normal standard framing involves materials that are not acid free or lignin free or employ wrong mounting and framing techniques that could add further deterioration and irreversible damage to your art piece that you could be better off not having it framed at all!
We employ the use of the highest grade archival materials such as:
TRU VUE® Museum Glass® & TRU VUE® Conservation Clear® Glass
Neutral PH Pure Wheat Starch for reversible hinging
Japanese Mulberry Paper
Archival Acid Free Linen Tape
Archival Polypropylene Mounting Corners
Cotton / Purified Alpha Cellulose Mat board and Mounting boards
Museum Grade Humidity Absorbent Desiccants within frames
Museum Plexiglass (Anti UV 99.7%)
Because paper is extremely sensitive to its surroundings, acids causes paper to become stained and brittle over time and it is easily damaged by humidity, temperature changes, restriction of movement, direct contact with acidic materials and exposure to strong lighting. Even ambient artificial or strong fluorescent lights in your home contains UV light! When these rays strike, lignin accelerates the deterioration process which causes a photo-chemical reaction that will fade colors.
Lignin is the acid in paper. It is the reason why newspapers and all other papers made from wood pulp turn yellow and, over time, deteriorate. When exposed to light the process of deterioration will accelerate. It is necessary to apply the use of high grade conservation mounts which are 100% free from lignin. Alpha-cellulose conservation or cotton ragmats are preferred.  It does not contain any lignin and other potentially damaging substances, leaving an almost pure cellulose which is of a neutral pH.
We practice proper techniques and hinge our artwork using only archival quality hinges that allow the artwork to hang safely within the mount – unless otherwise specified by the customer.
TRU VUE® Conservation Museum Glass
Just as importantly we use conservation glazing to protect your artwork from fading prematurely. Ultra Violet Light Protection is preferred as it is essential in protecting artwork from the slow but irreversible effects of exposure to UV light. It offers 99% UV protection from the irreversible damage caused by light exposure.
TruVue® Museum Glass is the highest grade industry standard blocking 99% of all UV light. It contains the highest anti-reflective properties and is virtually 'invisible'
Less than 1% Light Reflection
Blocks 99% of UV Light
Optical Coating for true and bright color transmission
Highest Light Transmission over 97% for best colors, brightness and contrast levels
More info: http://tru-vue.com/solution/museum-glass/
*Do note that framed artwork with Musuem Glazing should not be placed where direct sunlight falls on them. This will fade any print or artwork over time no matter how archival it may be.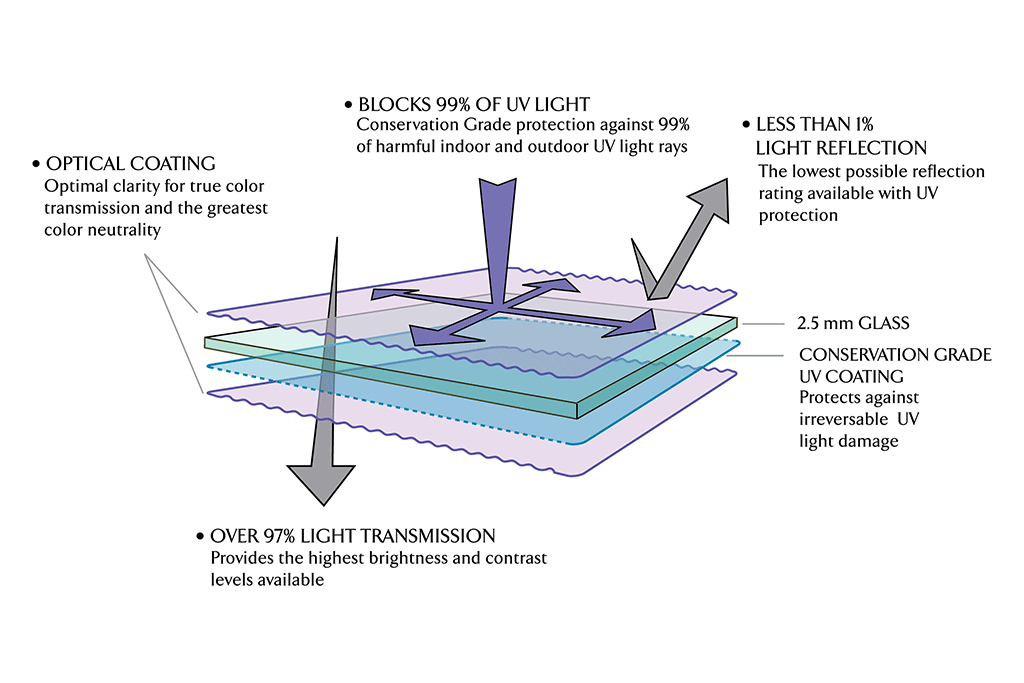 Singapore's tropical climate and constant high humidity is a threat to delicate works on paper. As such, we offer the use our ArtSorb Conservation Desiccant Sheets made specifically to control the Relative Humidity(RH) within a sealed frame. These desiccant sheets controls the RH at 40-50% which is most ideal for works on paper.
It is also important to provide a gap between the frame and wall with the use of felt or rubber bumpers so that air can flow through the back of the frame and not create a deadspot whereby moisture and mould can get trapped at the back of each frame.
Do note that it is good practice to change each Artsorb sheet within the frame every 3-5 years for better preservation.